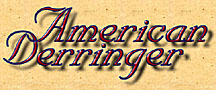 New and
Exciting
Our Newest Products

American Derringer Belt Buckle

Designed by Lady Derringer herself in response to many requests, the American Derringer Belt Buckle celebrates the legendary Model 1 in .45/.410 - The World's Most Powerful Pocket Pistol

Click for more information on the Model 1 Derringer

American Derringer Belt Buckle
Order# AC Buckle
$ Price on Request

Order

Jewelry by Lady Derringer

Our Collection starts with matched earrings and necklace in the form of our classic Model 1.

Purse Holsters
These are designed to
fit the Model 1, Model 7,
Models 10 and 11 as well
as the Lady Derringer.
3-inch .410 Shot Shells
Finally, the three inch .410 is back. These are made to American Derringer's exact specifications to fit .410 American Derringers
American Derringer Corp. is proud to announce the incorporation of two new features into all of our Single-Action Derringers shipped after November 3, 1997. Both of these new features enhance the safety, reliability and ease of use that have become the trademark of all American Derringer products.
The first offering is a child safety lock designed for and incorporated into all of our Single-Action models. This is in response to the growing needs of parents who wish to have adequate self-defense capability while still providing for the number one priority of child safety. Elizabeth Saunders - Lady Derringer - as a mother and grandmother has always been concerned with the safety of children and in particular with the issue of children and guns. While we at American Derringer recognize the importance of these safety locks, we still believe that a proper education in the safe and proper handling of firearms is essential in homes where firearms are present. We encourage all parents in the use of child safety devices throughout their homes and in the proper education and training of their children. Instructions in the proper use of these child safety locks will be included in the literature that ships with each American Derringer Single-Action Model. American Derringer is proud to join with the rest of the firearms industry in helping to make a safer home for our children.
The second offering - an automatic ammunition extractor - has been in the works for months, and is being incorporated into all Single-Action Derringers sold after November 3. This automatic ammunition extractor is the first ever applied to a Single-Action Derringer and answers the requests of many American Derringer owners.
These two features are also being added to our New Millenium Model (The Gambler) which is now being shipped. For more info on this special edition, please call us at 254-799-9111.
Owners of existing American Derringers can have the child safety lock added to their firearms by American Derringer at our Waco, TX factory for FREE! There is no need to go through a dealer or gunsmith to have this feature added. You can also have the extractor added to your Derringer for only $25.00 by the same folks that built your American Derringer. The Derringer can be shipped directly to American Derringer Corp., and will be returned directly to the owner. For more information on these new features or our upgrade program, please call us at 254-799-9111 or e-mail us at amderringer@aol.com.









© 2000-2011 American Derringer Corp.