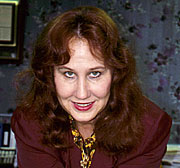 A Message From
Lady Derringer
Let me welcome you to my web site. It's been a long time getting here but we are here to stay! I want to tell you what American Derringer Corporation is all about, and what our priorities are. I hope you will be pleasantly surprised at what you find.
Our motto is "The Tradition of the Past with the Quality of the Present." We have been making the finest derringers in the world for almost two decades right here in Waco, Texas. Our guns are manufactured by the finest craftsmen and gunsmiths, and from the highest quality USA materials available. American Derringer is not interested in making more guns, but rather, in making the best guns. We would rather have fewer high-quality firearms available than compromise on quality. There is only one acceptable level of quality - the best. We have a passion for our work, and products - We want to share that with you. In other words, we guarantee every American Derringer for one year - No questions - No conditions!
Another part of that tradition of the past is high quality at a reasonable price. We are competitive in price and our customers receive high value for our derringer products. American Derringer is creating firearms that are not only excellent personal protection, but an attractive accessory as well. There is an American Derringer for every need and every use. I have found that it is easy to combine effective personal protection with style and fashion. This is important in today's world, where women want to be responsible for their own protection. We have a line of firearms designed by a woman with a woman's needs in mind. There is no reason that a firearm cannot be both effective protection and attractive. The notion that all firearms need to look the same is not one to which we subscribe.
In fact, we offer many different ways to customize and "personalize" your American Derringer. We can assign a custom serial number to your firearm. We also offer custom engraving, a sample of which you can see right here on our web site. And, the newest custom feature we are offering, and one that I am very excited about, is a custom cameo grip! We have arranged with an artist to take a customer provided photograph and engrave it, cameo-style, into the ivory grips of your American Derringer! This means you can give your loved one (or yourself) the gift of personal protection with one of a kind personalization, and a work of art to be cherished down through generations to come.
And, when you call American Derringer, I promise you will never get voice mail, or "push 1 to...". We answer our phones, and talk to our customers - all the time; and always will. Our people will happily answer your questions about your American Derringer firearms and accessories, directly and personally. The concept of customer service is one of the important traditions of the past that we keep very much alive. It is our culture at American Derringer to maintain this tradition. We believe that there is a niche for our products, and we work very hard for those customers who appreciate quality and "old fashioned" personal service.
Our goal at American Derringer is to provide you with the best personal protection, as well as a possession you will value as much as we value you. Please feel free to send us any questions and comments you may have. Browse around and enjoy our web site at any time.

Elizabeth Saunders
PS: While you are browsing our web site, please be sure to check out our special edition guns, including our New Millennium Year 2000 Commemorative Series. Quantities will be limited to 3,000 of each model in this series. We are now accepting reservations for this once in a lifetime collectors' series. To ensure a low serial number, it is a good idea to make your reservation now.

Please e-mail Elizabeth your comments at amderringer@aol.com
---









© 2000-2011 American Derringer Corp.