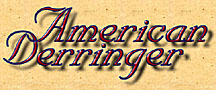 The American Derringer Story
American Derringer Corporation was founded by Robert A. Saunders in 1980. It was his vision to make a high quality stainless steel derringer that would never rust. Robert Saunders had an admiration for many kinds of firearms since he was a child, and remembered the problems of a gun rusting if not properly cleaned after use. He was also fascinated by small handguns that would later become the basis for the founding of American Derringer Corporation.
Robert Saunders was assembling guns from parts from the time he was 7 or 8 years old. His grandfather was a gunsmith and had many gun parts in his basement. Saunders continued to develop his expertise in guns, serving as a captain and assistant officer in charge of the gunsmith division at the United States Air Force Marksmanship School in San Antonio and later working for a company that sells guns.
Saunders' dream was to be able to take his love for firearms and make them his profession. He did just that. After receiving a Master's of Business Administration degree from Baylor University and investing about $30,000, Saunders decided to start his own company with a specialization in derringers. He looked for a niche market, one that the "big boys" like Colt and Smith & Wesson weren't going after. Saunders once stated "Smith & Wesson makes more guns in a day than we make in a year."
Digressing for a moment, another seed for American Derringer was planted many years ago, in the 1800's - the days of the "wild, wild, West." American Derringer's single action over/under was inspired
by the old .41 rim fire Remington derringer. This derringer, with its classic design has always been a favorite among serious firearms collectors. The mystique of this little derringer that fits into the palm of your hand continues to this day. If you have watched movies about the "Old West," you may have seen some of these little derringers up a gambler's sleeve at a poker table, or in a cowboy's vest as a "backup" in a gun fight. But the neatest of all was when the "fancy ladies," dressed in their fancy "outfits," would have one of these little derringers in their draw-string purse, or in their garter belt. If you gave these ladies undue misery, when you least expected it, you could be looking down the double barrels of this tiny derringer. These women had the right to protect themselves then, as women today deserve the same right.
American Derringer expanded upon the concept of the old .41 Remington derringer by making their stainless steel derringers in over 60 calibers, and many different models, ranging from a .38 Special to a .357 caliber, to a .45-70 caliber, to a .22 Long Rifle or Magnum. Robert Saunders had found his "niche" in the firearms industry and founded a successful business. In 1986, American Derringer won the prestigious "Inc. 500" Award (based on percentage increase in sales in a 5 year period.)
Robert Saunders met Elizabeth Saunders (formerly Elizabeth Bowen) in 1986, and was "dazzled" by her marketing ability. Elizabeth joined American Derringer that same year, with responsibility for sales and marketing, in addition to other duties. Elizabeth's vision for American Derringer would build upon what Robert Saunders had begun. She saw the need for firearms with a woman in mind. She was constantly reminding Robert that American Derringer needed a "Lady Derringer " gun.
Finally, in 1989, Robert gave the approval for Elizabeth's "Lady Derringer" concept to be born. The Lady Derringer ad first came out in 1989, with Elizabeth Saunders modeling as Lady Derringer, which in turn became "Lady Derringer." This marketing strategy took off like "gangbusters," and with Elizabeth Saunders' approval, in 1990, Hard Copy did a feature story on her. As a result of the feature story, she appeared on over 800 television broadcasts world-wide. Lady Derringer became a legend in her own right. In 1991, Elizabeth Saunders, as Lady Derringer, was offered a prominent role in a motion picture. Due to a number of circumstances, this, unfortunately, never came about. American Derringer's sales during this time were increasing several times over. American Derringer had a production backlog of almost a year. Elizabeth Saunders has been told by gun industry experts that she (Lady Derringer) put American Derringer Corporation "on the map."
American Derringer's philosophy is to make a derringer for everyone's personal protection needs. With this in mind, Elizabeth decided the Lady Derringer concept of a firearm had to pretty as well as practical. It is her opinion that the "KISS" (Keep It Simple Stupid) method is the best. She realizes that most women don't like, in their spare time, to deal with complexity. This is why American Derringer's single action and double action derringers are safe and very simple to use.
In 1993, the tragic death of Robert Saunders transferred ownership of American Derringer Corporation to Elizabeth Saunders. She has never forgotten the vision that Robert Saunders had of dependable, high-quality derringers that "pack a big wallop." But she also realizes that these "specialty" derringers are a "work of art" and are in the hands of many serious gun collectors. These high quality derringers are made exclusively with USA materials, and manufactured in Waco, Texas. They are all hand crafted by people who really care about what they make. These derringers have a one year warranty and free repair, as well as several options for an extended warranty.
Elizabeth is at American Derringer Monday through Friday, from 8 AM until ?? (if she is not at a major firearms show, meeting customers face to face, getting their input on American Derringer products.) She rarely can be found at her desk. She is constantly moving between the machine shop, assembly room, inspection stations, shipping and the sales/accounting area - or in the front office working with customers.
Elizabeth has a passion for her work and her firearms. She realizes there is definitely a "niche" for small, powerful, concealable weapons for defensive purposes, combined with artistic qualities for the "collector." She prefers her guns to go only to those customers who really care about what they own.
Under Elizabeth Saunders' leadership, American Derringer has introduced several new products, including"
The Lady Derringer (single action and double action)
Model 8 single action
LM 5 - .32 semi-automatic
She is also responsible for getting several products out of the R&D mode and into production, including the "Derringer Standard" (which resembles that High Standard), and the much talked about "Semmerling LM 4. Elizabeth is constantly looking for new ways to customize her products with the customer in mind, thereby adding value for the customer. The most recent example is American Derringer's announcement of the New Millenium Year 2000 Commemorative Derringer Series. This series, designed to mark the new century will be produced in limited runs of 3,000 of each model.
If you happen to be in the central Texas area, Elizabeth invites you to come by and visit her retail outlet - The Derringer Store - in Waco at 127 North Lacy Drive.









© 2000-2011 American Derringer Corp.